We love hearing your feedback
From home offices to personal gyms, and teenage breakaway spaces to a back garden bar, our garden rooms have been built, used and loved by so many of you!

Here are a few of our clients thoughts and reviews on our garden room kits.
"A Testament to the easy build, was the fact we managed to squeeze it in onto a small plot, too small in fact as we had to nip a chuck out of the retaining wall.

We also had to pull the roof forward so as not to encroach on our neighbour, therefore also versatile.

We are extremely happy with the build, it looks like it's always been there and is in constant use since finished."
- Dylan Aston
"It has been a long summer landscaping but it's finally done and first party's held at the weekend.

It's amazing, very warm inside and perfect for hiding the teenagers in.

Thanks again for the product and build support"
- Ian & Zoe
"From viewing to ordering and delivery the purchase process was slick, unrushed and we did not feel under pressure We took longer than the day suggested to build as my husband did it himself with just a bit of help with the roof so on and off took 8 days for the build

We have installed its own consumer unit with lights, sockets and a heater. We added carpet tiles and vertical blinds as we have French doors width side opening windows. We then also added perfect fit Venetian blinds that fit in the doors to help with sun glare. All in all we are super pleased with the pod. Everyone is very jealous of my home office! We also turn the desk around and use as a bar when we have parties!"
- Jill Eldrige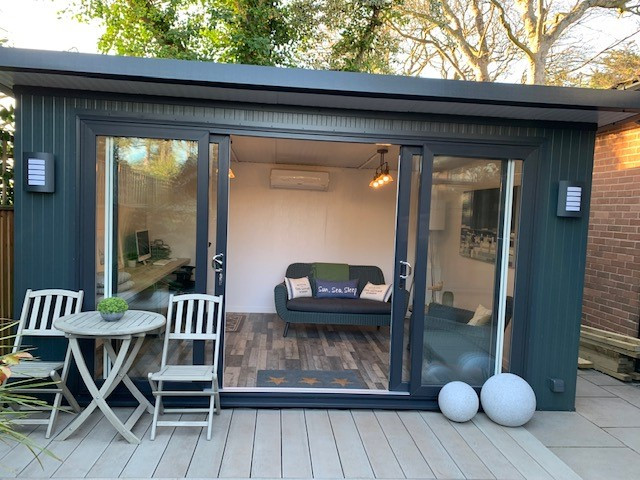 "Great and efficient service - easy to install, product itself is a proper unit, very pleased with my garden office."
- Sarah Rotherham
"It's been a while since you delivered the insulated panels. Here are some photos of the almost finished conservatory. We love the insulated panels. Easy to handle and has given us an all year round room. The interior finish is bright giving us plenty of light in the conservatory. Thanks again."
E.Jones
"The house is finished and we're both very happy, the bi fold doors installed really gave the edge. You guys truly created an amazing and gorgeous product. Thank you very much, you're always very helpful."
- Audrey & Alidio